Geographical Information Systems (GIS) are becoming popular in many industries worldwide. We believe that the natural gas industry can drastically benefit from this functionality. This industry is often overwhelmed with difficult concepts. Frequently dealing with new employees due to higher than average rates of turnover compounds the matter. Our gas management systems and capacity management systems are bolstered with the GIS technology to facilitate the understanding of these concepts.
We have found that the ability to show transactions on a map that indicate the exact flow path helps users to better understand the intricacies of the business and the impact of their deals. Profitable daily markets are better identified by knowing the geographic location where higher activity is noticed by your traders on a given day, this is easily identified using GIS enabled systems. The software can be configured to associate the marketers and suppliers you deal with to regions where they buy or sell gas. GIS can indicate the marketers and producers who may be interested in excess capacity identified by CapMan when configured to do so.
We feel our GIS solutions are merely the tip of the iceberg. Analysis of your company's needs and the application of GIS technology can create proprietary solutions that mean huge efficiency gains and increases to your bottom line.
<![if !vml]>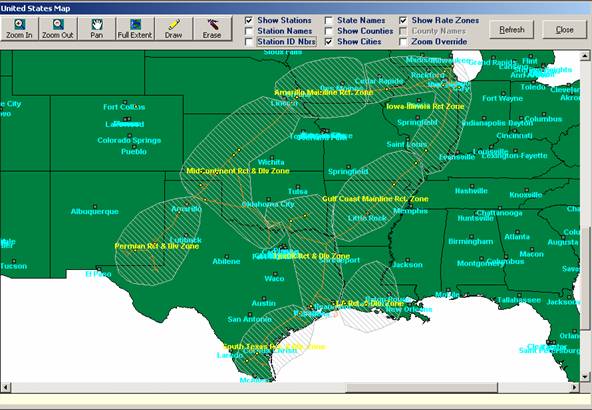 <![endif]>
This diagram shows how the pipeline is configured with respect to states, cities, counties and rate zones. The path of any transaction can be shown on this map. Our CapMan product will display all the contractual, flowing and entitlement availability information by hovering over a meter. The application of GIS technology in your gas management system will facilitate training, improve comprehension and creates opportunities never before possible.
Click here for more information.